15 Nutritionally Complete Meals Per Bag
Buy 1 Bag = £74.95 (£4.99 Per Meal)
SAVE 10%
Buy 2 Bags = £67.46 Per Bag
SAVE 15%
Buy 4 Bags = £63.71 Per Bag
Free Shipping - 24 Hour Tracked
24 people are viewing this right now

Why choose HLTH Code?
Looking for a delicious and science-based meal replacement option that won't break the bank? Look no further than HLTH Code. Our nutrient-rich meal replacement contains eight products in one, including protein, fibre, MCT oil, probiotics, digestive enzymes, collagen, apple cider vinegar, vitamins, minerals and more. Save money by replacing these expensive supplements with HLTH Code a single product that is free of artificial ingredients and contains only high-quality proteins and healthy fats.
HLTH Code is more than just a meal replacement, it's a real meal that is as simple as adding water and shaking. Formulated by a team of metabolic scientist (say hi to Dr. Ben Bikman PhD), to have the right combination of nutrients at the right ratios and potencies so that every ingredient counts towards making a difference in your health right down to a cellular level.
Join the thousands of satisfied HLTH Code customers and try our product today.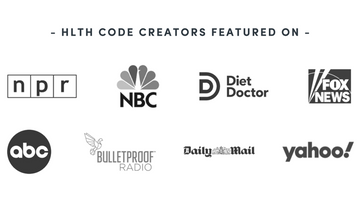 WHAT'S INSIDE?
INSTRUCTIONS
HOW MANY TIMES A DAY?
IS IT KETO SAFE?
Store in a cool, dry place and drink daily. When you're on the go, scoop straight into a shaker bottle and add water, or leave dry until it's mealtime.
Works with your favourite shake recipe, too! But a note from the metabolic experts: We call it a complete meal because we believe it has everything you need, and nothing you don't. If you're trying to simplify mealtime or control your weight, choose your add-ins with moderation, and preferably ingredients that have minimal refined carbohydrates, sugars, or net carbs.
Consult your health care professional before making lifestyle or dietary changes
We recommend up two complete meals (two scoops per shake) per day.Depending on your health goals, you can replace 1 or 2 meals a day with HLTH Code Complete Meal. For general wellness, replace one meal per day. To reset your health or for fat loss, replace up to 2 meals per day. Each bag contains 30 scoops.
Yes! HLTH Code Complete Meal contains only 4g of net carbs, no added sugars and 27g of healthy fats. Best of all, it is naturally sweetened without the use of any artificial sweeteners or sugar alcohols. HLTH Code Complete Meal can be an excellent meal solution while on a Ketogenic diet.
US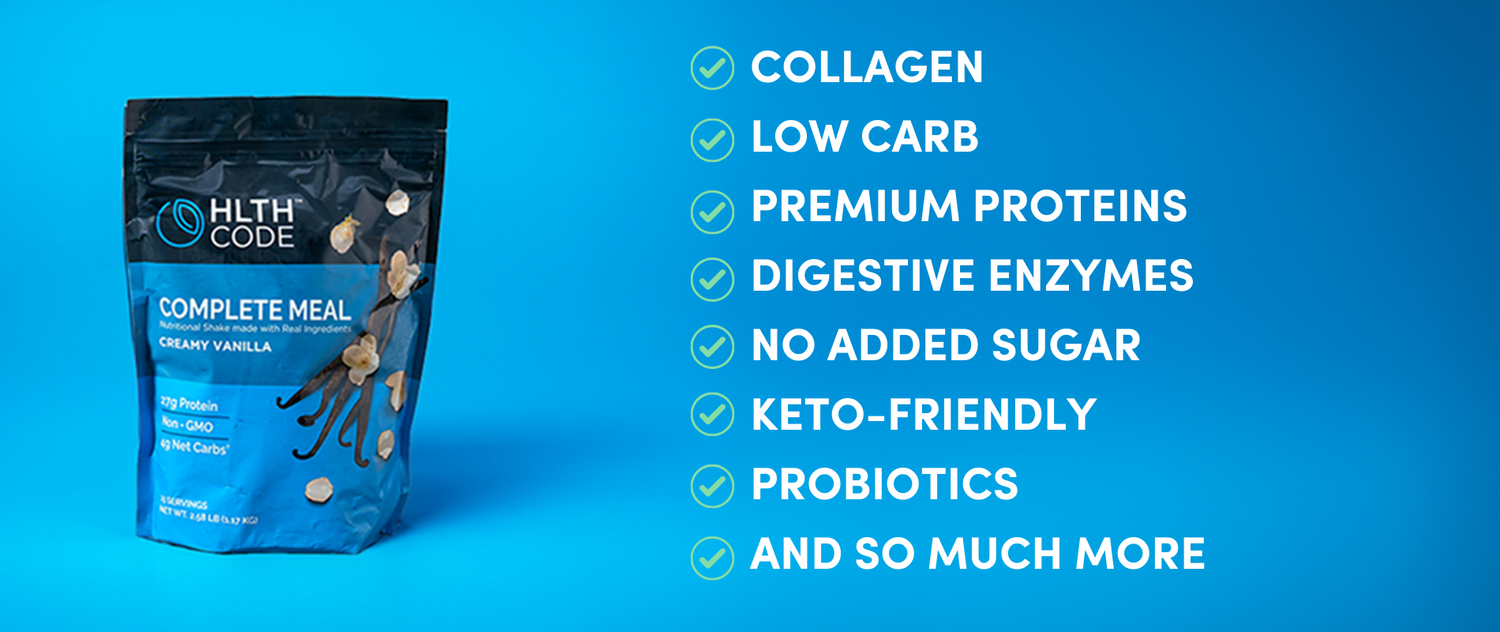 THEM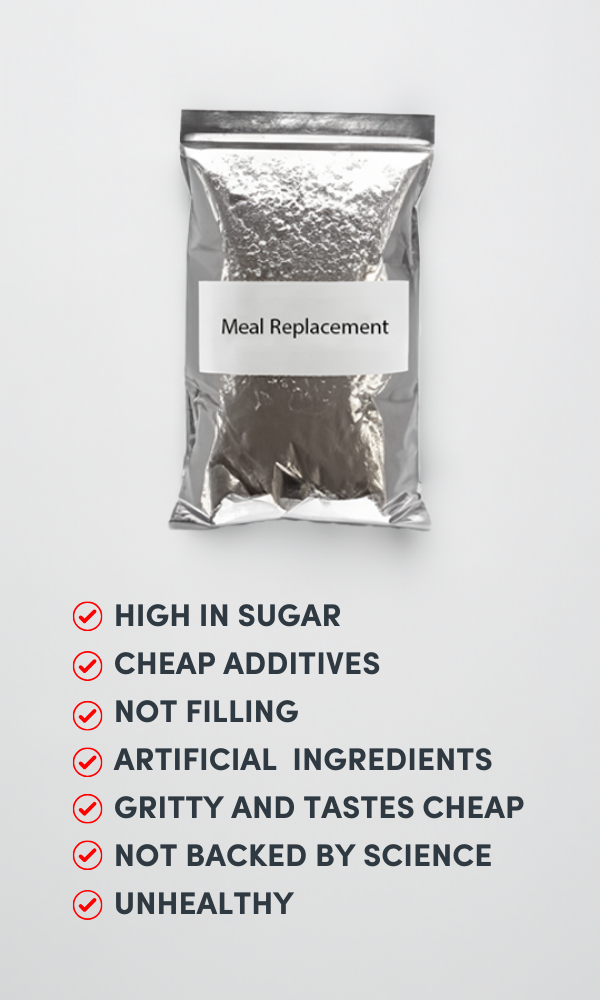 WHAT CAN HLTH CODE DO FOR YOU?
IMPROVE DIGESTIVE HEALTH
Our premium blend of fibre, digestive enzymes, probiotics and prebiotics has been carefully formulated to ensure optimum gut function and a healthy gut biome to help to minimise bloating and improve digestion.
BURN FAT
Designed to help you lose weight by providing the right balance of essential nutrients, fats and proteins to signal to your body that it's time to start burning fat, not storing it.

Based on the best available studies on human metabolism, HLTH Code has been created to especially help you lose weight without the need for counting every calorie.
BUILD LEAN MUSCLE
Our blend of highly absorbable protein, sourced from whey (with the highest biological value of any dietary protein) and egg whites (with the highest net protein utilisation by the body) stimulates muscle growth hormones for that healthy toned look and feel.
GLOWING HAIR, SKIN & NAILS
Our grass-fed hydrolysed collagen formula features 6.5 grams of collagen peptides, which can assist in achieving glowing, youthful skin and in maintaining normal skin hydration, elasticity and integrity.

Coupled with the ideal ratio of omega 3s and 6s HLTH Code may improve hair, joint, cartilage and bone health.
ENHANCED ENERGY AND FOCUS
Mid-afternoon slump? No more. Sugar cravings? All set. Brain fog? Gone. Have hours of energy and focus by training your body to burn fat instead of carbs.
FIGHT AGEING
Various age-related diseases can be attributed to insulin resistance. Formulated by a team of metabolic scientist, HLTH Code can help keep insulin under control with smart and controlled nutrition.