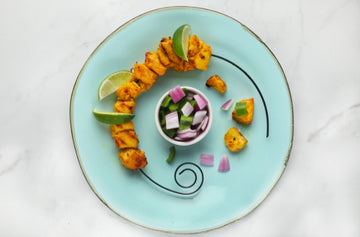 Makes 4 servings
1 pound (454g) boneless, skinless chicken breasts, cut into bite-sized pieces
1/2 cup (122g) plain Greek yogurt
2 Tbsp (31ml) lemon juice
2 cloves garlic (6g), minced
1 Tbsp (20g) grated ginger
1 tsp ground cumin
1 tsp ground coriander
1 tsp paprika
1/2 tsp turmeric
1/4 tsp chili pepper
Salt and pepper to taste
Skewers (if grilling)
Lime wedges, to serve
Instructions:
Mix ingredients in a bowl.
Add the chicken pieces to the marinade and stir to coat; cover and refrigerate for at least 30 minutes or overnight for best results.
Preheat the grill or grill pan over medium-high heat. If using skewers, thread the chicken onto the skewers.
Grill the chicken for 8 to 10 minutes on each side or until cooked through and slightly charred.
Serve the chicken tikka with lime wedges and a side of veggies or a salad.

Nutritional breakdown per serving (recipe makes 4 servings)
229 Calories
38.6g Protein
5.5g Fat
0.5g Fiber
3.8g Total Carbs
3.3g NET Carbs