Recipes
Fried Cod With Olive And Almond Relish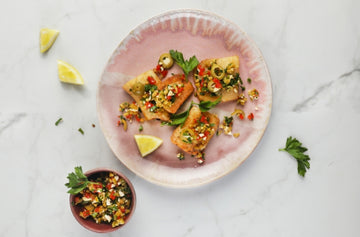 Makes 4 servings
Relish
1/2 cup (60g) sliced almonds
1/2 cup (65g) pitted olives (a mix of green and Kalamata olives), chopped
2 Tbsp (8g) fresh parsley, chopped
1 Tbsp (9g) capers
1 Tbsp (9g) hot red chili, seeded and chopped
2 Tbsp (30ml) lemon juice
1 tsp lemon zest
1 clove garlic (3g), minced
Cod
4 cod filets (4oz/113g each)
Salt and pepper
1/3 cup (34g) almond flour
1 tsp (2g) paprika
1/2 tsp (1.6g) garlic powder
1/2 tsp (0.7g) dried basil or oregano
2 Tbsp (28g) avocado oil
Lemon wedges, for serving
Instructions:
Preheat the oven to 400°F (200°C).
Combine all relish ingredients in a bowl and mix well; season to taste and set aside.
Pat the cod filets dry with a paper towel and season them with salt and pepper on both sides.
Combine almond flour, paprika, garlic powder, and basil in a shallow bowl or plate. Press the cod filets into the breading mixture, coating them evenly on all sides. Gently shake off any excess breading.
Heat the avocado oil in an oven-safe skillet over medium-high heat.
Place the cod filets in the skillet and sear them for 2 to 3 minutes per side until they develop a golden crust.
Transfer the skillet to the preheated oven and bake the cod for 8 to 10 minutes or until it flakes easily with a fork. Remove from the oven and let it rest for a minute or two.
Serve the cod filets with the relish on top.
Nutritional breakdown per serving (recipe makes 4 servings)
318 Calories
27.8g Protein
18.4g Fat
5.0g Fiber
11.8g Total Carbs
6.7g NET Carbs