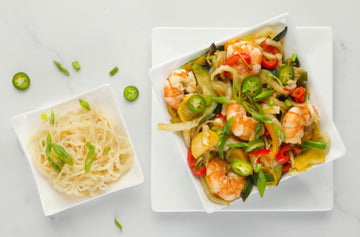 Makes 4 servings
1 pound (454g) large prawns or shrimp, peeled and deveined
2 Tbsp (27g) coconut oil
1 large (164g) red bell pepper, sliced
1 large (164g) green bell pepper, sliced
1 medium (110g) onion, sliced
2 cloves (6g) garlic, minced
1 Tbsp (6g) grated ginger
2 Tbsp (18g) tamari sauce
1 Tbsp (14g) sesame oil
1 Tbsp (15ml) rice vinegar
1 Tbsp (0.8g) monk fruit sweetener (or your preferred keto-friendly sweetener)
Salt and pepper to taste
Optional garnish: sliced green onions and sesame seeds
To serve: zoodles or other low-carb noodles. optional
Instructions:
Combine the tamari sauce, sesame oil, rice vinegar, and sweetener. Set it aside.
Heat coconut oil in a large skillet or wok over medium-high heat. Add the sliced onions and sauté for 2-3 minutes until softened.
Add the minced garlic and grated ginger to the skillet; sauté for another minute until fragrant. Add the bell peppers to the skillet and stir fry for 3-4 minutes until tender.
Push the vegetables to the side of the skillet and add the prawns; cook for 2-3 minutes until they turn pink and cooked throughout.
Pour the tamari sauce mixture over the prawns and vegetables. Stir everything together to coat evenly.
Cook for an additional minute to allow the flavors to meld together, season with salt and pepper to taste.
Remove from heat and garnish with sliced green onions and sesame seeds if desired.
Nutritional breakdown per serving (recipe makes 4 servings)
404 Calories
37.1g Protein
22.5g Fat
5.5g Fiber
17.4g Total Carbs
11.7g NET Carbs