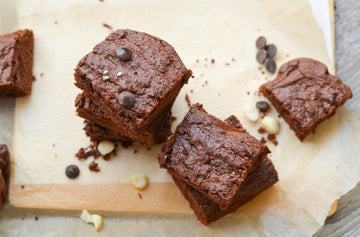 Makes 9 brownies.
Ingredients:
4 Scoops HLTH Code Chocolate Macadamia
1/3 Cup Coconut Flour
1/2 Cup Coconut oil
1/2 Cup Lily's Stevia Sweetened Dark Chocolate chips
1/2 Cup Classic Monkfruit sweetener
1/3 Cup Warm water
2 Tsp Baking Powder
2 Eggs
Preheat oven to 175 c
Combine
HLTH Code
, Coconut flour, Monkfruit and Baking powder in a large mixing bowl and mix together.
In a separate bowl, melt coconut oil, then add in chocolate chips and melt together over the stovetop or in the microwave in small increments.
Once fully melted, pour into a large mixing bowl and add in warm water and stir together.
Add in eggs last.
Put parchment paper on top of a 8×8 baking pan.
Add in brownie batter and smooth out with spatula.
Bake for 20-25 minutes and enjoy!

Nutritional breakdown per serving
260 Calories
8g Protein
6g fibre
22g Fat
11g Total Carbs
3g NET Carbs