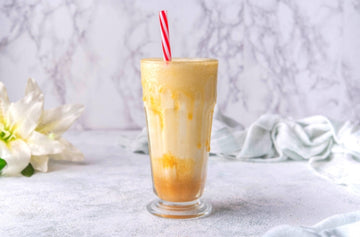 Recipe makes 2 servings
Ingredients:

1 cup unsweetened almond milk
2 scoops HLTH Code Creamy Vanilla
2 tbsp cream cheese
For the sauce:
1 Tbsp butter
¾ cup sugar-free brown sugar sweetener (Swerve or Lakanto are good options)
¾ tbsp golden monk fruit
2 ¼ Tbsp heavy cream
1/8 tsp xanthan gum
½ tsp sea salt flakes
½ Tbsp water
Instructions
Add almond milk, HLTH Code and cream cheese to blender and blend until smooth.
Make the sauce; combine butter and sugar-free sweeteners in a saucepot. Bring to a boil and cook for 3-5 minutes, making sure you do not burn it.
Remove from the heat and stir in heavy cream.
Sprinkle over the xanthan gum and whisk vigorously to combine. Return to heat and cook for 1 minute more. Remove the sauce from the heat and let cool. Once lukewarm, stir in water.
Add salt and stir well.
To serve; dip the top of the glass into the caramel sauce.
Pour the remaining sauce into the glass and fill the glass with the vanilla shake.
Serve.
Nutritional breakdown per shake (recipe makes 2)
367 Calories
13.5g Protein
31g Fat
5g Fiber
20g Total Carbs
3.5g NET Carbs