Recipes
Vanilla Cinnamon Smoothie Bowl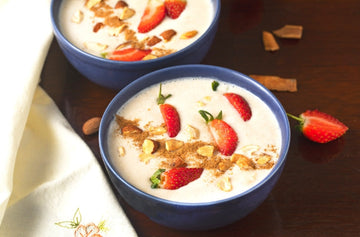 Recipe makes 2 servings
Ingredients:
Smoothie
1 cup (240ml) unsweetened almond milk
1½ cups (166g) frozen cauliflower rice
2 scoops (80g) HLTH Code Creamy Vanilla
2 Tbsp (31g) almond butter
2 Tbsp (26g) cottage cheese
1 tsp (3g) ground cinnamon (or to taste)
1 Tbsp (10g) hemp seeds
2 Tbsp (6g) monk fruit sweetener (or another sugar-free sweetener of choice)
1 cup (111g) ice cubes
Topping
1/3 cup (45g) sliced strawberries
1 Tbsp (8g) chopped almonds
Instructions
Add all smoothie ingredients to a high-powered blender and blend until smooth and creamy.
Pour into two bowls and top with strawberries, almonds, and an extra sprinkle of cinnamon, if desired. Serve immediately.
Nutritional breakdown per shake without toppings (recipe makes 2)
414 Calories
22.4g Protein
28.4g Fat
10.2g Fiber
20.9g Total Carbs
10.6g NET Carbs